GARDEN OF EDEN KINGDOM LIVING
​​​
​ We Are More Than A Drink Company
Apostle Karen Long​
​
CEO: Karen Long, Apostle
P.O Box 18018
Milwaukee, WI. 53218​​
​
EMAIL​: gardenofedenkingdomliving@yahoo.com
Phone: 414-377-1310​​

Facebook:
www.facebook.com/GardenOfEdenKingdomLiving​
​
ABOUT THE OWNER

The Garden of Eden Kingdom Living, was birth on May 17, 2014. After having over a dozen dreams of her running through a garden filled with big fruit and vegetable, she would be bumping into them in every dream. God had Karen to start watching what she was eating. While watching what she was eating then she started juicing, Grapefruits, Lemons, Limes and Oranges. She would walk around with her juice and everybody was asking her questions about what was she drinking they said, "it looked good." Karen found herself sharing her juice. One night she was sleeping, when she received a complete download from God, instruction and direction. She jump up out of her bed with her vision.

Apostle Karen loves helping people and because of that this is more than a business but a passion, to see people eating better and living longer. She is also the Apostle and Pastor of The Path Finder's Church, located at 7504 West Appleton Ave. She is the author of three books, for more information please visit www.thepathfinderschurch.com

For speaking engagements 414-377-1310​​
​

​​​​​​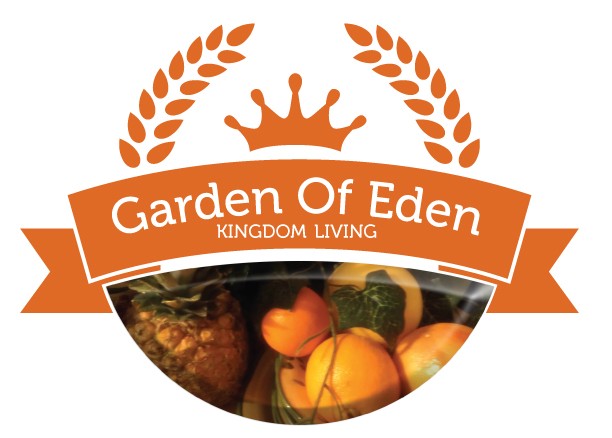 Natural Energy
​
Natural Weight Loss
​
Natural Fasting​​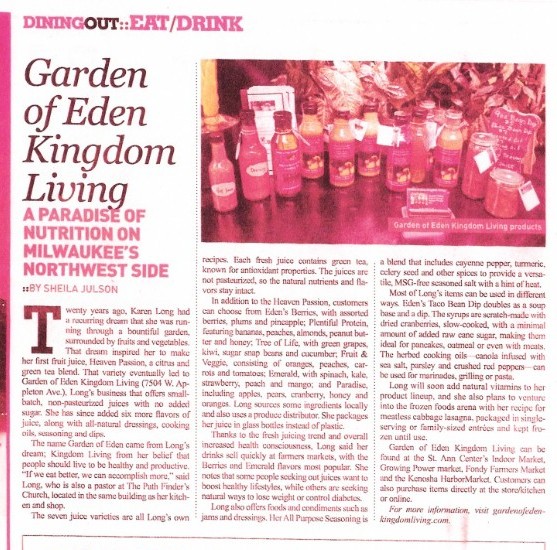 Thanking the Lord for being feature in The Shepherd Express News



















​​​​​​​​​​​​​​​​​​​

​​ Paper. April 14, 2016 issue
to check to complete article
you can go online
www.theshepherdexpress.com
​​​
​​​​
Weight loss plan


​
​ 1. No Pork, Beef, or Red Meat, Bread, No Soda, No Pasta, No Fry Foods, no butte​r

​​ 2. Chicken, organic (Only grilled, baked or stream
​ Fish, (grilled, baked or stream
​
​ 3.Natural Tea's with honey or natural pure raw sugar
​
​ 4.Drink plenty of water, with lemon
​
​ 5.Vegetable and fruit, w/o whip cream
​
​ 6. GardeinVeggie meat
​
​ Breakfast​
​Just one of Eden's drink, or Natural oatmeal, with Honey, or whole grain cereal, or two eggs with fruits on the side, or veggie sausage with two egg, drink water, or tea, or coffee with light natural raw cane sugar.
​
​ Lunch
​ Just one of Eden's drink, or a bowl of Cabbage soup, or a bowl of bean soup, salad with grilled chicken, veggie patties with vegetables or salad
​
​. Dinner
​Just one of Eden's drinks, or Fish or chicken baked, grilled, or stream, with your choice of two vegetable no more than ½ cup size, Faith, you must see yourself at the size you want, if you can see it, you will believe it, you have it……….
We have a new drink! Eden's Natural Miracle Fat Burn Drink!
Our customer, love
this new fat burn.....

check out video...​​​​...